One of the most powerful efficiency-enhancing features in the system is called Saved Searches. It is also one of the least well known or understood. In this post we will show how to save your searches then re-run them, share them, edit them and delete them.
Saved Searches
Saved Searches are available on the top toolbar just to the right of the search field as shown in this screen shot.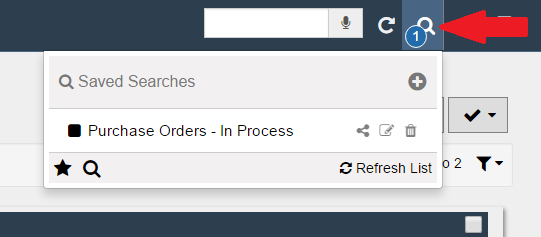 To Save a Search
After you perform a search, open the Saved Search panel and click the save/plus button. This will bring up a naming box. The default name is a description of the search. Feel free to edit or replace the name so it makes sense to you.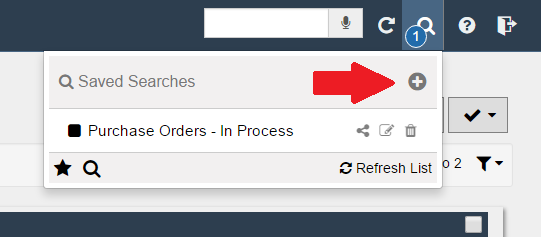 To Run a Search
Once the search is saved, you can execute it again any time by clicking the row. This will execute the search fresh each time so any new Records will show up and deleted Records will not show up any more as well.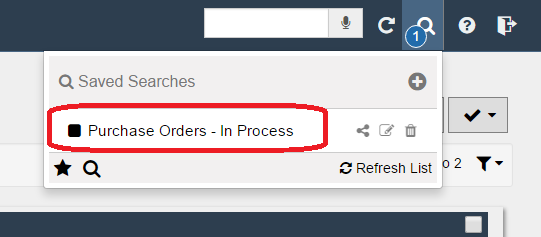 To Edit a Search
To edit the name of any saved search, click the edit icon in the saved search row. This will bring up a naming box. The previous name is shown and can be edited as needed.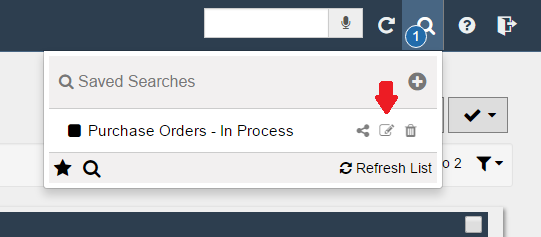 To Delete a Search
To delete any saved search, click the delete icon in the saved search row. Confirm your deletion when prompted.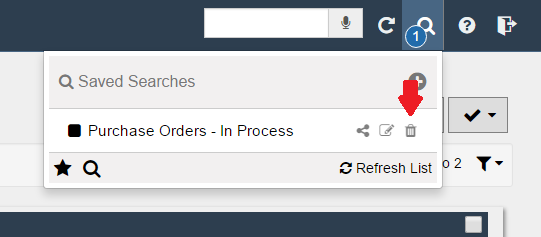 To Share a Search
If you wish to share your search with another user you can do that using the share button as shown below. Clicking the share button copies a share link to your clipboard. You can then paste this link into an email, Facebook post, etc. When a user clicks the link they will perform the search for themselves.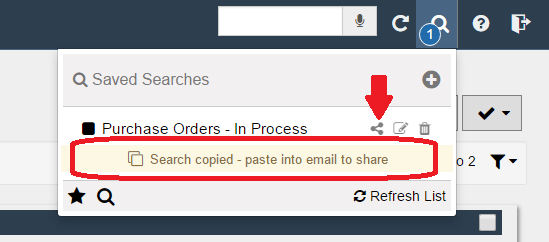 Keep in mind that you are not sharing the Records – just the search! When the user clicks the link you send them they will be re-executing the search under their own account so the Records they see may not be the same as what you see.  If the user you send it to does not have rights to some or all Records they will not see those Records.
---
Bonus Features!
The two icons on the bottom-left of the Saved Search panel will show Records in a drop-down panel without having to leave the current screen.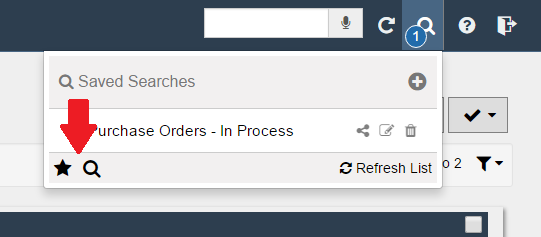 Favorites
The Favorites button will bring your Favorite Record list up in the toolbar for easy access. This saves you from having to go to the Home page to get to your favorite Records.
 Last Search
The Last Search button will bring up your last searched record list up in the toolbar for easy access. This saves you from having to search again to get to your last searched information.