Restore Deleted Records
Did you or a colleague accidentally delete a needed Record? No fear, this article will review how any administrator can restore deleted records using the Recycle Bin feature.
Restoring Records is a simple 3-step process. However, as noted above, you must be an administrator to perform this function. Therefore, if you are not an administrator then you will need to find one who can help.
Step 1 – Load Recycle Bin

An administrative user can restore deleted records. From the Admin drop-down select the [icon name="recycle" class="" unprefixed_class=""] Recycle Bin button. This will take you to the Recycle Bin page which shows all Records that have been deleted. The Records are displayed in reverse-chronological order – meaning the last deleted Record is on the top of the list.
Step 2 – Select Records to Restore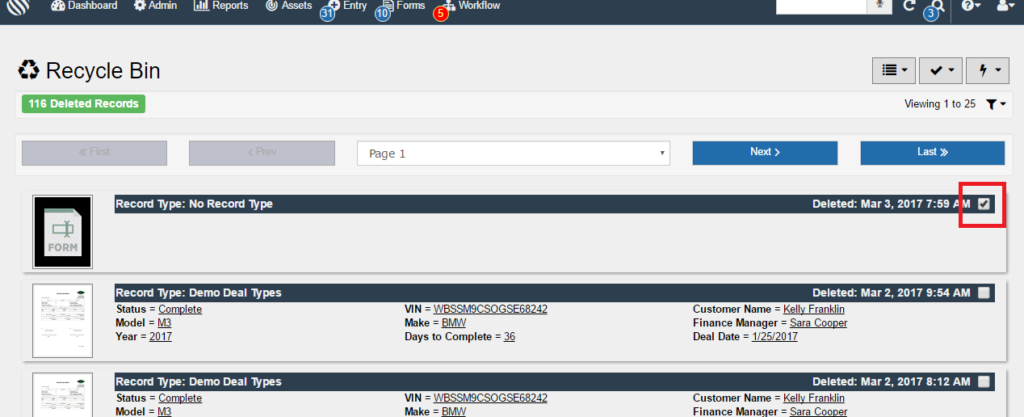 Select the deleted Records that you wish to restore by checking ON the check box for the Records. Restore as many Records as you like at one time. You just have to find them and check ON their check box. You can adjust the number of Records per page using the [icon name="list" class="" unprefixed_class=""] button.
Step 3 – Use 'Restore Checked Records' Option

Once your desired deleted Records are checked ON, click on the [icon name="check" class="" unprefixed_class=""] drop-down and press the [icon name="refresh" class="" unprefixed_class=""] Restore Checked Records button.
Once you start the process you will see a status screen that tells you which Records are being restored. When the process is done you are returned to the Recycle Bin page.
Summary
Crisis averted! Your deleted record is restored and available again. Keep in mind, restored Records will not be automatically sent back through workflow. Route the Record from the Record's Information screen to send the Record back through workflow if that is required.