Improving HR Departments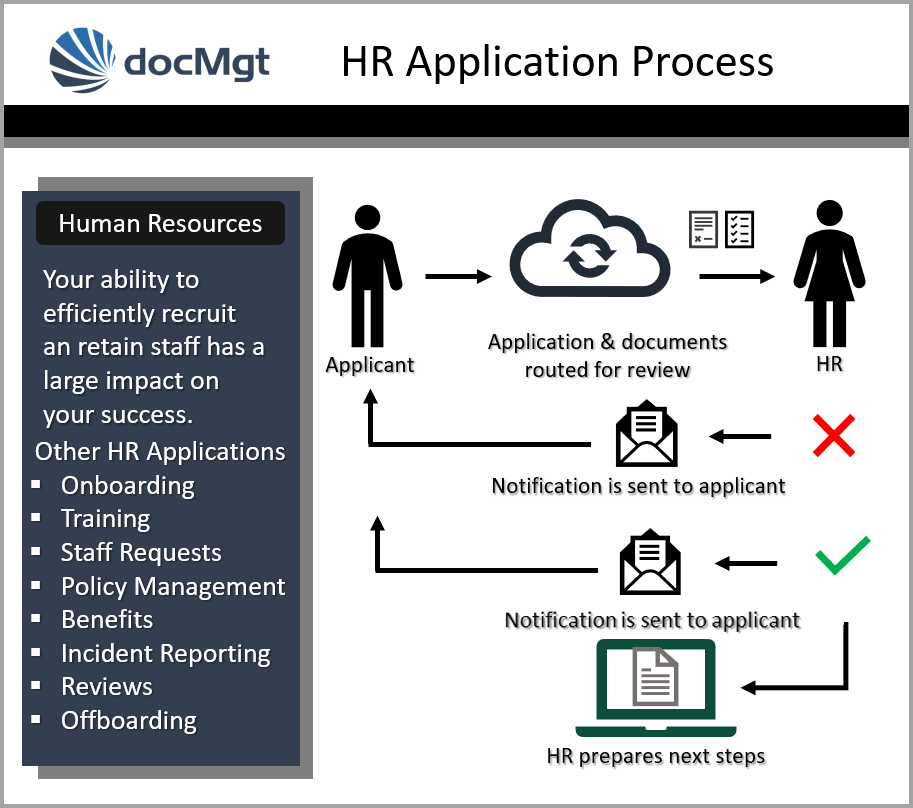 Employees are the life blood your organization. Success depends upon your ability to hire and retain the best possible talent.  But success also depends on protecting yourself from litigation and compliance issues. That is why docMgt works hard at Improving HR Departments.
The best way to meet these needs to implement docMgt. We help you manage the collection of required forms and documents and our workflow can help your hiring processes. You users are notified when they have new work assignment and the information they need to make decisions is routed directly to them. All of this functionality collapses the time and the cost it takes to process employment applications. This ensures that you have the documents and data to make good informed hiring decisions.
Good information about employees also allows you to make good decisions about compensation and advancements. docMgt allows HR departments to capture, organize and secure all the information and documents that represents an employees' work history with an organization.  Having the right HR information helps protect against potential employee litigation and compliance issues.
Typical Human Resource Documents Managed by docMgt:
Employment Applications
Resumes
I-9 Forms
W-4 Forms
1099 Documents
Annual Reviews
Employee Correspondence
COBRA Forms
401K Documents
Medical Plan Documents
Non-Disclosure Agreements
Non-Compete Agreements
Confidentiality Agreements
Separation Agreements
Related Articles